Making an Impact! …Confident Self-Presentation
A one-day course with Richard Mills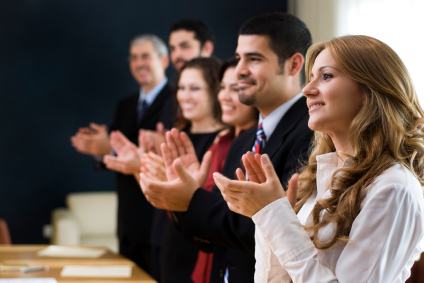 This course will help you develop self-presentation skills and help you sell yourself, whether at work, in a job interview, in a community situation, socially, or indeed any type of situation where you are trying to get your message across.
It will help you improve your ability to:
make presentations
make an impact
use your body language effectively
use your voice, speaking clearly and directly
structure your message
make your message concise
sell yourself
expand your 'comfort zone'
'I really enjoyed the "Making an Impact!" course. I found the video format elements excellent and I was particularly impressed with the relaxed atmosphere Richard nourished during the day. This created a supportive environment where people felt they could give and receive open and honest feedback and contributed to a positive learning experience for all involved. I would recommend this course to anyone keen to improve their presentation style (or just to watch themselves giving a talk on video for the first time and learn something for the better!).'
Richard Mitchell
See yourself (on VIDEO) as others see you
Will you like what you see?! You are offered the invaluable opportunity within a supportive and helpful environment to watch yourself on video and learn from what you see, so that you present yourself effectively.
Course method
I'll be giving you information and plenty of advice, plus written materials to take away with you, but this course is not mainly about sitting and listening to me talking to you. This course is more about doing activities, so you can practice being more confident rather than just thinking about it. You will get 1-2-1 coaching from me, with focused feedback about specifiic things you can improve on straightaway. You will the chance to participate in activities such as
seeing yourself on video
doing experiential exercises
group discussion
The learning environment
The four F's….
I think that the course has to be a space that offers four indispensable things:
Focus
Feedback
Fun
Friendliness
The course is prepared with a lot of attention to specific aspects of presenting and selling yourself, so that the day feels purposeful and targeted. This helps avoid being too general or 'woolly'. During the day you will get sympathetic feedback from course members and from me: your strengths and successes will be noticed and welcomed, and you will be given clear indications of areas you may wish to pay attention to, change, or refine. You'll get more than one chance to do this, as the day progresses.
Neither of the above is useful if the group does not feel friendly, so I pay attention from the first moment of the course to helping group members feel comfortable and accepted, so we can all work well together on areas that may feel like a considerable challenge before you walked through the door.
Lastly, the best learning is done if there's some fun!
Situations addressed on the course will include:
promoting yourself
presenting to a group (including, if you wish, a pitch to get a job)
"Tell me and I forget. Teach me and I remember. Involve me and I learn."
Benjamin Franklin
Trainer
This one-day course will be led by: Richard Mills, BA, BSc, PGDIM, LGSMD, BACP Senior Accredited Counsellor/Psychotherapist, CCI Trainer
Details
Times: 10.30am – 5.00pm
Date (It will be a Saturday): Please visit www.confidence-building.net 
Venue: Oakwood House, Office 6, 637 Roundhay Road, Oakwood, Leeds LS8 4BA
Cost:
£95 if you are paying for your place out of your own funds.
£120 if your own business or your employer (or another sponsor) is paying for your place.
Group size: minimum: 4, maximum: 8.
I think it's important to keep the size of the group small, for two reasons:
I want people to feel comfortable enough to participate in the group exercises, which are designed to encourage 'trying on' (i.e. experimenting with) new and useful ways of behaviour.
I want each course participant to get plenty of individual attention over the course of the day: it's no good if you get lost in the crowd.
Booking
I prefer that you book by email, ( richard@richardmills.co.uk ) but you may book by phone (O7984 OO2495) if you prefer.
Please first be sure that:
You are at least 18 years old.
If you have any physical or mental impairments or disabilities, you have already let me know.
Please send me an email with the following information:
Tell me your name
Tell me your phone number
Tell me the name and date of the course on which you would like to have a place.
I will then send you an invoice by email.
Payment by direct bank transfer
On my invoice I will give you my account number, sort code, bank name and account name.
Payment by Paypal
Tell me you want to pay by Paypal and I will send instructions to you.
Payment by post
Send a cheque, payable to Richard Mills, to
Richard Mills Training, Counselling and Psychotherapy
Oakwood House
Room 6
637 Roundhay Road
Leeds
LS8 4BA
Joining instructions
Before the course I will send you joining instructions.
Cancellations
If you cancel your place more than six weeks before the course begins I will refund all the money you have paid, less a £10 administration fee.
If you cancel your place less than six weeks before the course begins I may refund you some money, but I won't promise to do so.
In the unlikely event that I cancel the course you would receive a full refund of what you have paid, and I would give you as much notice as possible.